PELATIHAN PEMASARAN PRODUK KERIPIK CABE MELALUI MEDIA SOSIAL BAGI WARGA ASRAMA BRIMOB BATALYON B MALANG
Keywords:
training, product marketing, red chili chips, social media
Abstract
This Community Service (PPM) activity is carried out as a responsibility in fulfilling the obligations of the Tri Dharma of Higher Education. The target objects in this PPM activity are women from the Asrama Brimob Batalyon B Pelopor, Kelurahan Ampeldento, Kecamatan Pakis,  Kabupaten Malang. This PPM activity seeks to provide understanding through materials and guidance to promote the sale of chili chips using social media. This guidance is given to the public through material presentation activities and hands-on practical activities on how to create written and photo content which will later be used as material to promote chili chips products so that they are expected to get customers outside the Asrama Brimob Ampeldento. From this Community Service (PPM) activity, it is hoped that a synergy will be created between the women of the Asrama Brimob Batalyon B Pelopor Kabupaten Malang and the Malang State Polytechnic, that this guidance activity can help partners in increasing their income through promotional activities and sales of chili chips by use social media continuously.      
References
Atmoko Dwi, Bambang. 2012. Instagram Handbook Tips Fotografi Ponsel. Jakarta: Media Kita.
Borchers, T. A. (2005). Persuasion in the Media Age (2nd Edition). New York: McGraw-Hill Companies, Inc.
Kasali, Rhenald. 2016. Disruptions, Tak Ada Yang Tak Bisa Diubah Motivasi Saja Tidak Cukup. Jakarta : Mizan
Suryani, Tatik. 2013. Perilaku Konsumen di Era Internet. Yogyakarta: Graha Ilmu.
Stanley, John; Stanley, Lisa. 2015. Food Tourism, A Practical Marketing Guide. New York :CABI
Young, Nichole S. 2012. Food Photography, From Snapshots to Great Shots. United States of America: Peachpit
https://www.soocaphoto.com/4-alasan-fotografi-makanan-adalah-hal-yang-penting-untuk-pemasaran/ diakses pada Juni 2022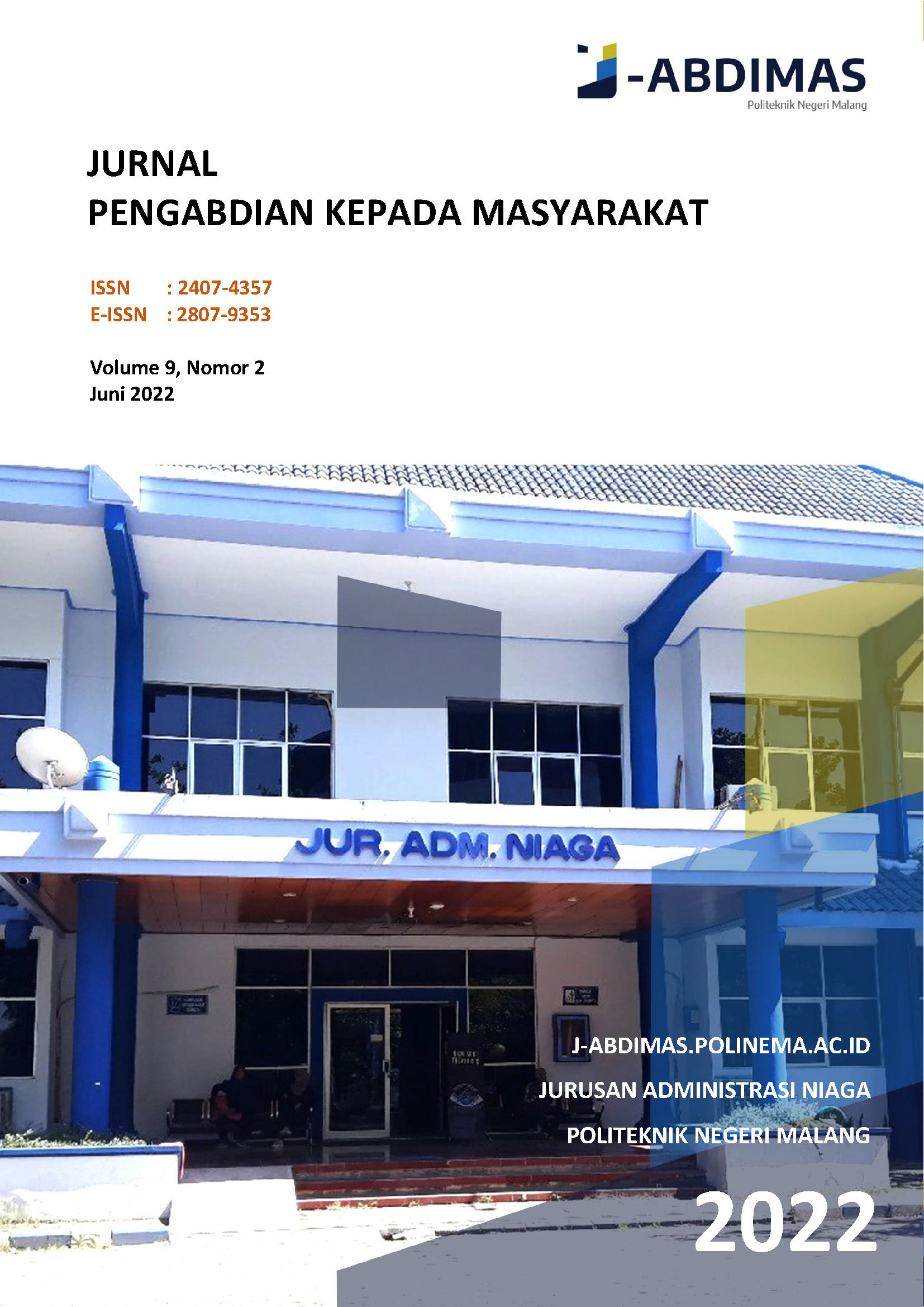 Downloads
License
This work is licensed under a Creative Commons Attribution 4.0 International License.