Pengadaan Alat Produksi Guna Meningkatkan Produksi DUPITOS di Dusun Petung Sewu Kabupaten Malang
Keywords:
Dupitos, Dusun Petungsewu, equipment assistance
Abstract
Dusun Petungsewu is one of the hamlets producing quality corn gerit. The product diversification that has been carried out is in the form of tortilla chips, which are named Dupitos (Duwet Polinema Tortilla Chips). The production is carried out by the people of Dusun Petungsewu. The potential possessed by Dusun Petungsewu by processing Dupitos is quite large. This is because Dupitos products are healthy snacks that are suitable for consumption by all ages. Currently, Dupitos' production process still uses inadequate equipment. Therefore, this service aims to donate the equipment needed in the Dupitos production process so that the production process can run smoothly. The implementation of community service programs is carried out in the form of production equipment grants, knowledge transfer, questions and answers and evaluations. The results of the service show that the procurement of production equipment in the form of a dough rolling machine and dough thinning machine facilitates the Dupitos production process. Thus, partners can work more efficiently and effectively. This service provides several benefits both in terms of quality and quantity. It is hoped that the implementation of the service can provide benefits and help both partners to improve the quality and quantity of production. Keywords: Dupitos, Dusun Petungsewu, equipment assistance  
References
Badan Pusat Statistik Kabupaten Malang. (2020). Kabupaten Malang dalam Angka 2020. BPS Kabupaten Malang.
Ghanimata, F., & Kamal, M. (2012). Analisis pengaruh harga, kualitas produk, dan lokasi terhadap keputusan pembelian (studi pada pembeli produk bandeng juwana elrina semarang). [Disertasi]. Fakultas Ekonomi dan Bisnis Universitas Diponegoro.
Mendez-Montealvo, G. M. M., Sánchez-Rivera, M. M., Paredes-López, O., & Bello-Pérez, L. A. (2006). Thermal and rheological properties of nikstamalized maize starch. Int J Biol Macromol, 40(1), 59–63. https://doi.org/10.1016/j.ijbiomac.2006.05.009.
Muhsin, M., & Ahmad, N. S. (2017). Peningkatan Kualitas dan Produktivitas Kripik Pisang Dengan Mesin Perajang di Desa Jati Kecamatan Udanawu Kabupaten Blitar. Jurnal Abdimas, 1(2), 11–17.
Rohmayanti, T., Novidahlia, N., & Damayanti, I. (2019). Karakteristik Tortilla Chips dengan Penambahan Tepung Ampas Kecap. Jurnal Agroindustri Halal, 5(1), 113–121. https://doi.org/10.30997/jah.v5i1.1695
Santoso, H. (2008). Kerupuk. Kanisius.
Saraswati, N. P. A. S., Ribek, P. K., & Mudana, W. (2018). Program Pengabdian Kepada Masyarakat Melalui Peningkatan Kualitas Dan Kuantitas Produksi Patung Berbasis Limbah Di Desa Singapadu, Gianyar, Bali. Selaparang Jurnal Pengabdian Masyarakat Berkemajuan, 2(1), 1. https://doi.org/10.31764/jpmb.v2i1.555
Sulistyowati, A. (1999). Membuat Keripik Buah dan Sayur. Puspa Swara.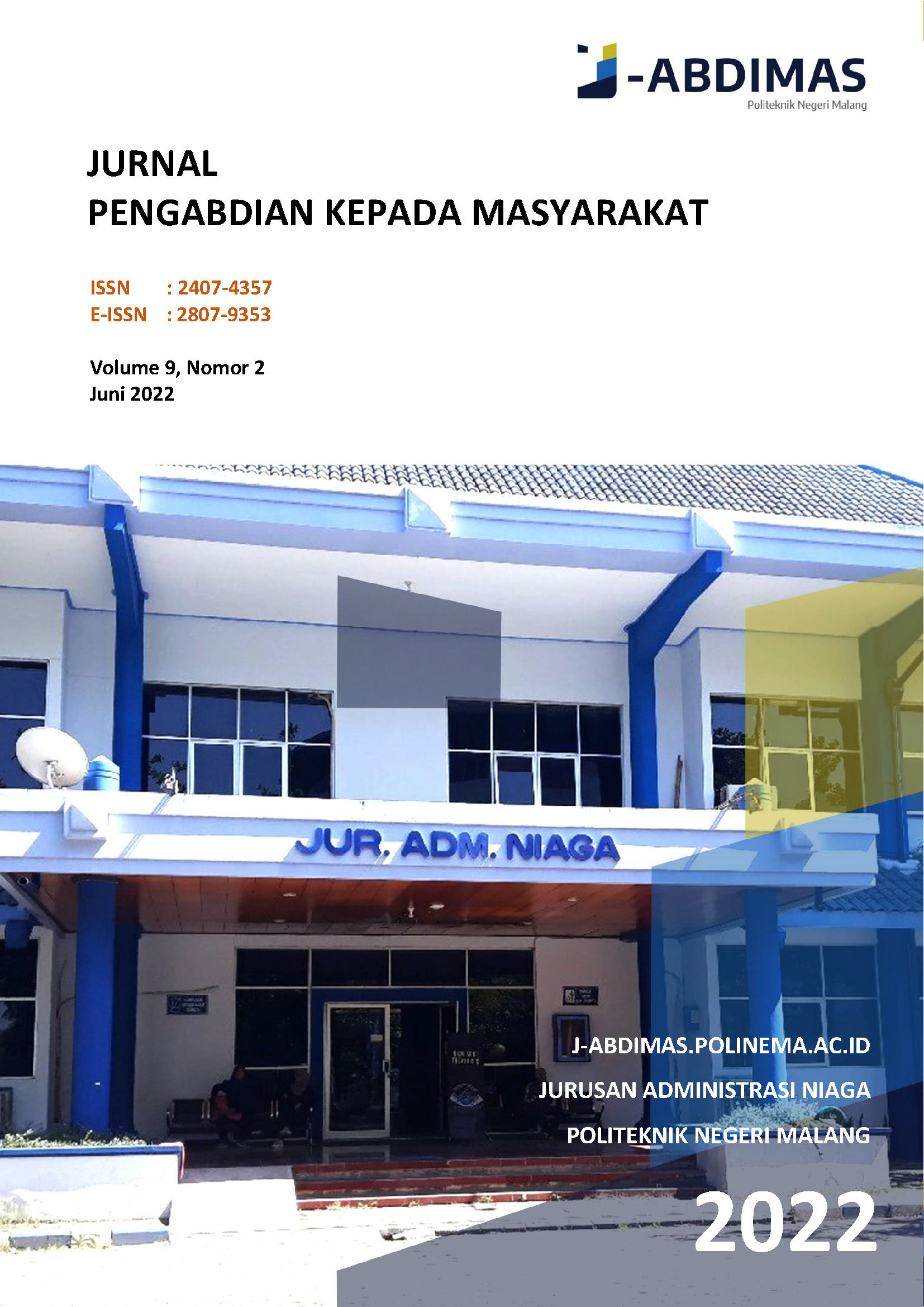 Downloads
License
This work is licensed under a Creative Commons Attribution 4.0 International License.