PELATIHAN AUGMENTED REALITY SEBAGAI MEDIA PEMBELAJARAN INTERAKTIF KEPADA GURU-GURU TK ISLAM AL-MA'ARIF SINGOSARI MALANG
Keywords:
augmented reality, interactive learning media, kindergaten learning method, counseling, training.
Abstract
The use of interactive learning media in the pandemic period is deemed necessary to be developed better, besides being able to increase the desire to learn from students who already feel bored just doing learning at home, interactive modules are considered more effective in delivering material. However, there are still many kindergarten teachers who are not optimal in applying interactive modules. This is because there is still rarely counseling or training in making interactive modules. So, it is necessary for counseling to be carried out by lecturers from Electronic Engineering who in the process will be assisted by students to introduce and teach the process of making to the application of augmented reality modules that can be used as interactive learning media for early childhood. It is hoped that after the counseling is held, learning media using augmented reality can be applied to subjects that require 3D visuals in delivering material.  
References
J., Gunawan, dkk. 2017. Pemanfaatan Augmented Reality sebagai Media Pembelajaran Pengenalan Warna Objek 3D kepada Anak Usia Dini berbasis Android. TEKNIKA : Vol. 6, No. 1, November 2017. Hal. 47-53.
Silfanny, Fisca Azhar, dan Finita Dewi. Analisis Tiga Aplikasi Augmented Reality untuk Mengenalkan Alfabet Bahasa Inggris pada Anak Usia Dini. RECEP : Vol. 1, No. 1, November 2020. Hal. 17-31.
Cahyaningtyas, Ailsa Salsabila. 2020. Pembelajaran menggunakan Augmented Reality untuk Anak Usia Dini di Indonesia. Jurnal Teknologi Pendidikan : Vol. 5 No. 1. Oktober 2020. Hal. 20-37.
induningrum, Estu, Atiqah Meutia Hilda, dan Rosalina. 2019. Pemanfaatan Teknologi Augmented Reality untuk Media Pengenalan Huruf Alfabet pada Anak Usia Dini. Jurnal SOLMA : Vol. 08, No. 01. Hal. 142-149.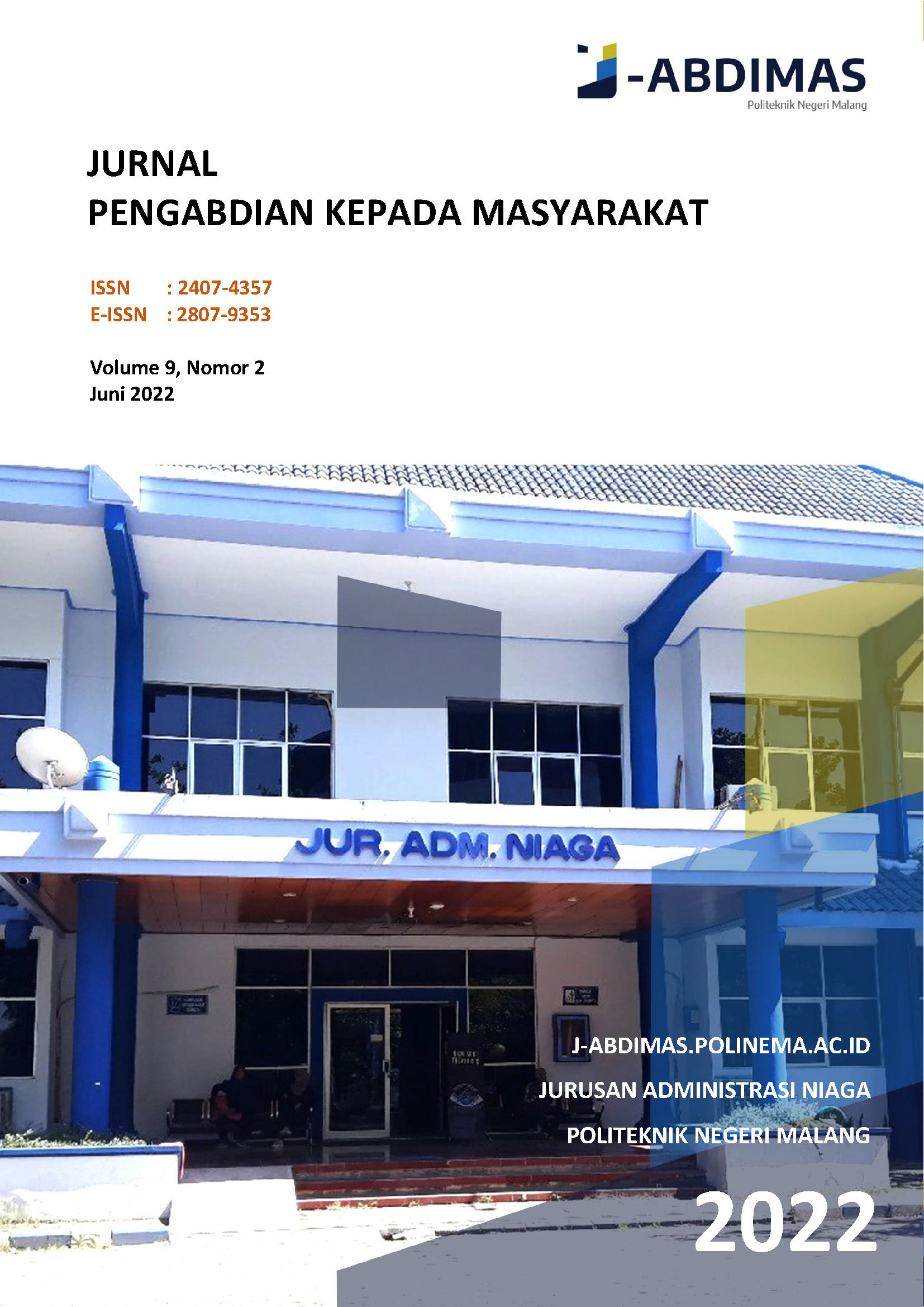 Downloads
License
This work is licensed under a Creative Commons Attribution 4.0 International License.