PRODUK DIVERSIFIKASI GERIT JAGUNG HASIL OLAHAN WARGA DESA DUWET KECAMATAN TUMPANG – KAB. MALANG
Keywords:
Tortilla Chips, Diversification, SME's, Entrepreneur, social entrepreneur
Abstract
This program aims to provide agricultural product processing technology in Duwet, Petungsewu – Malang. The activities carried out are processing corn kernels into tortilla chips and to provide knowledge about entrepreneurship, so that the partner village communities are able to manage their businesses, and improve the empowerment of business groups well. The method of this program are carried out in several stages, namely the initiation of the object of program, coordination with the community as the object of program, implementation of program, and evaluation of activities. Based on the results of the activity, there was a change in behavior to be more creative and innovative in processing corn kernels into Dupitos products (the name of the corn chips product) so as to increase the selling value of products to SME partners.
References
Badan Pusat Statistik. (2020). Kabupaten Malang dalam Angka 2020. BPS Kabupaten Malang.
Kasali, Rhenald, 2004, Social Entrepreneur, www. jkt.detik.com diakes pada 28 Agustus 2022.
Mendez-Montealvo, G. M. M. Shanchez-Rivera, O. Paredez Lopez, and L. A . Bello Perez. 2006. Thermal and rheological properties of nikstamalized maize starch. International Journal of Biological Macromolecules. 65: 314-320.
Rohmayanti, T., Novidahlia, N., & Damayanti, I. (2019). Karakteristik Tortilla Chips dengan Penambahan Tepung Ampas Kecap. Jurnal Agroindustri Halal, 5(1), 113–121. https://doi.org/10.30997/jah.v5i1.1695
Santoso, H. (2008). Kerupuk. Kanisius.
Schwab, hilde. 2010. Schwab foundation honours asia social entrepreneurs of the year. Geneva: the world economuc forum.
Sulistyowati, A . 1999. Membuat Keripik Buah dan Sayur, Cetakan I. Puspa Swara, Jakarta.
https://bandung.bisnis.com/read/20141026/549/1053184/beras-jagung-instan-alternatif-pengembangan-pangan-lokal.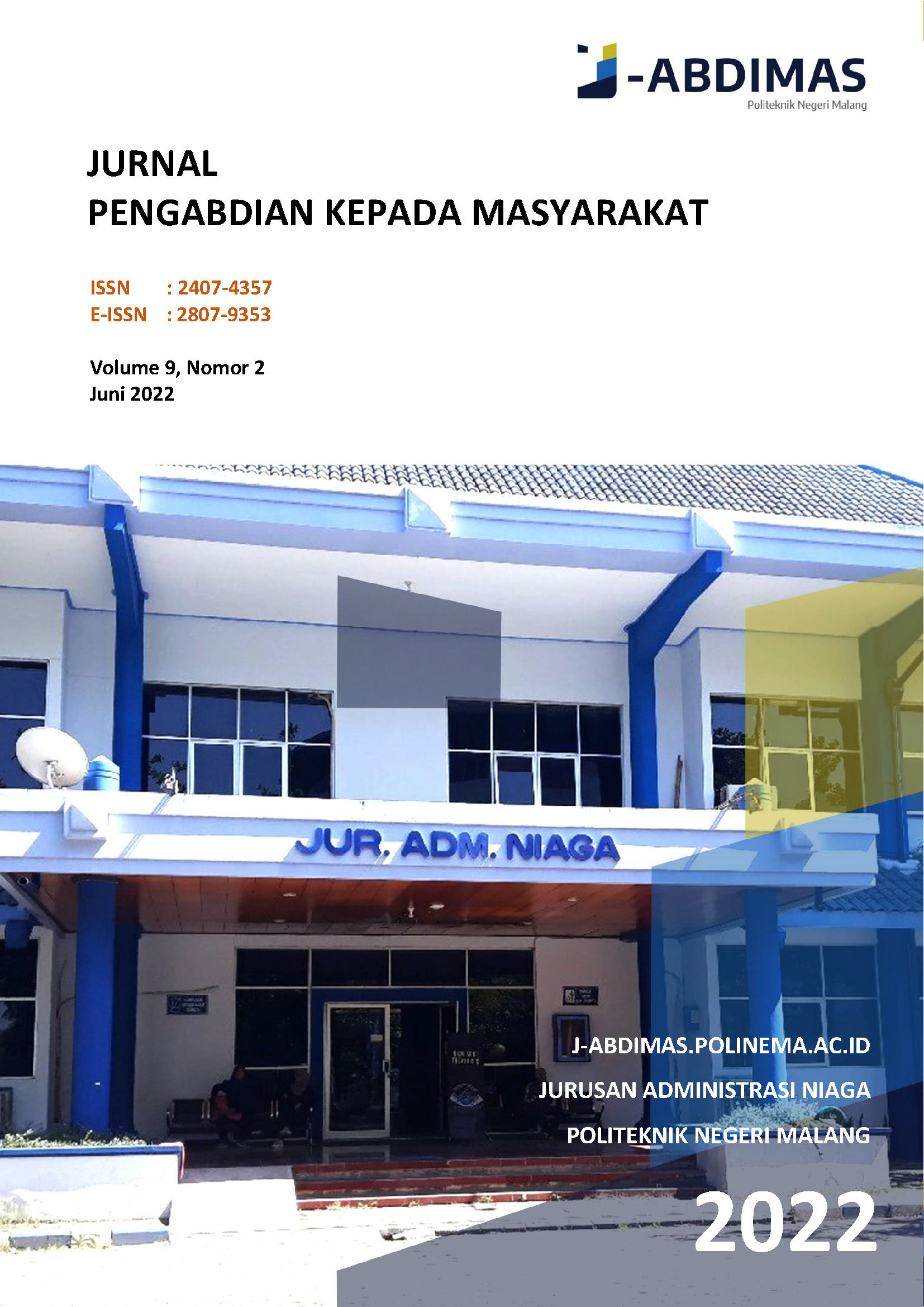 Downloads
License
This work is licensed under a Creative Commons Attribution 4.0 International License.